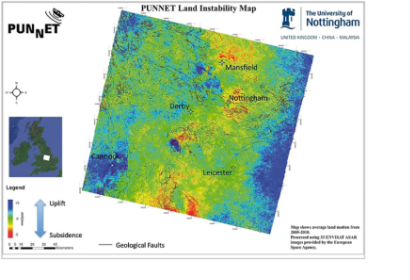 On 23 October, the Copernicus Masters was awarded to the first satellite-based service for extensive and uninterrupted monitoring and mapping of land stability.
The Punnet project is a satellite-based land stability monitoring and mapping solution for exploration, construction, and environmental protection purposes. The project is based on a novel algorithm, which enables the software to deliver extensive and clear imagery of deformation features over a wide range of land covers. Punnet Land Instability Maps provide solutions for geohazards monitoring, such as landslides, earthquakes and land subsidence due to natural resources.
"Punnet's innovative approach perfectly leverages the unique potential of the extensive Sentinel-1 data and the high-resolution data provided by the TerraSAR-X and PAZ satellites," said Alexander Kaptein, Head of Future Programmes at Airbus Defence and Space. The company is one of the sponsors of this year's Copernicus Masters prize.