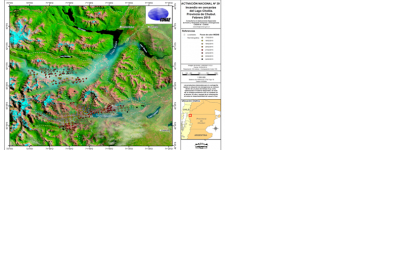 The Argentinian National Space Activities Commission (CONAE), host to a UN-SPIDER Regional Support Office, is providing heat spotlight maps based on satellite images that show the environmental conditions of the Andean-Patagonian native forests, which is crucial information to mitigate the fires in the province of Chubut, Argentina.
The maps are based on data from NASA's Landsat, Terra and Aqua satellites. The data is downloaded to, and pre-processed in the Earth Station Space Center Teófilo Tabanera (CETT). After a quality check, the images are delivered to professional staff of Space Applications Consulting area in Early Alert and Response to Emergencies (CAEARTE), for processing and last preparations. Finally, all information is sent to the authorities responsible for the mitigation of emergency, such as the Technical Coordination of the National Fire Management Service.
The heat spotlights maps are produced on a daily basis by CONAE and are accessible online.