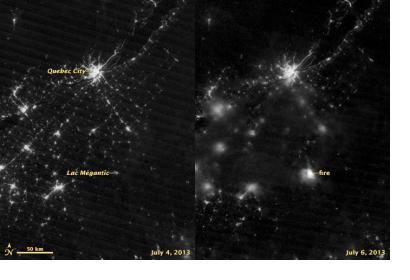 The International Charter: Space and Major Disasters was activated on 8 July 2013 to provide satellite imagery for the train derailment and consecutive oil spill and oil fire in Lac-Mégantic, Quebec, Canada. The mechanism was activated by Public Safety Canada.
An out-of-control driverless train containing 73 cars rolled into Lac-Mégantic at approximately 01:15 am ET on 06 July 2013, derailing in the centre of the town. The unit train was carrying petroleum crude oil, which exploded and decimated the surrounding area. Five people are confirmed dead, and around forty more are still missing. Fire officials have said that at least thirty buildings have been destroyed in the centre of the town. The full extent of the damage remains unknown and many residents have not been allowed back to their homes and businesses because of the safety risk.
NASA's Suomi NPP satellite also captured imagery of the affected area using Visible Infrared Imaging Radiometer Suite (VIIRS). NASA specifies on their website: "The image on the right was acquired at 6:59 GMT (2:59 a.m. local time) on July 6 by the instrument's "day-night band," which detects light in a range of wavelengths from green to near-infrared and uses filtering techniques to observe signals such as city lights, auroras, fires, and reflected moonlight. The image on the left, shown for comparison, was acquired by the same instrument on July 4, before the derailment. Light sources are not as crisp in the July 6 image because of cloud cover."