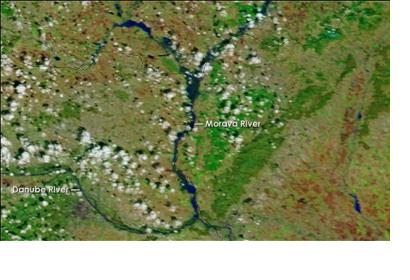 The Technical University Vienna (TU Wien), the Zentralanstalt für Meteorologie und Geodynamik (ZAMG) and private sector actors have opened the "Earth Observation Data Centre for Water Resources Monitoring" (EODC) earlier this year. EODC will host a very large amount of satellite data and make it accessible to researchers.
As a first step, TU Wien has developed a storing capacity of 2 Petabyte of satellite data covering the entire the planet - making use as well of the supercomputer VSC (Vienna Scientific Cluster), Austria's largest computer. In parallel, ZAMG is setting up an infrastructure that receives satellite data directly from the ground receiving station and does a first processing of the data.
"It does not make sense to process the amount of data needed for Earth Observation with ordinary computers," says Christian Briese, Executive Manager of EODC. "It is our task to build a data centre that allows the scientific partners involved to access the data easily and efficiently."
Apart from the large amounts of data, the needed processing power for EODC is also extraordinary. "When we improve our algorithms to get an even more precise map of global soil moisture, we use the improved programmes again and again on existing data," explains Prof. Wolfgang Wagner, who is leading the effort at TU Wien. Therefore large computer clusters are used for this constant re-processing of imagery.