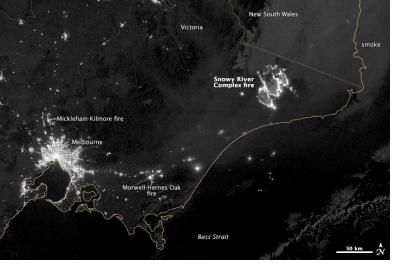 The summer heat in Australia brought high temperatures as well as strong winds to an already dry environment and created conditions for big fires. By yesterday almost 200,000 hectares had burned. The massive Snowy River Complex fire alone lights up an area of the size of Melbourne.
The Suomi NPP satellite Visible Infrared Imaging Radiometer Suite (VIIRS) took images of three fires – the Snowy River Complex fire, the Mickleham-Kilmore fire, and the Morwell Hernes Oak fire. The three are producing great amounts of smoke that spreads all the way to New Zealand and is even visible in the night photos.
Although the Snowy Rover Complex fire had spread over great area it does not pose any threat to infrastructure or urban areas due to its remote location. The other two fires are dangerous in many ways. The Morwell-Hernes Oak fire is burning in an industrial region, close to an open coal mine. It threatened four urban communities, but the authorities had it under control as of 12 February.
The Mickleham-Kilmore fire is the smallest of the three, in terms of affected area, but it is in immediate proximity to the northern parts of Melbourne. 13,000 people are being evacuated and the fire has already destroyed 12 homes. Weather forecasts say that the condictions will better in the next days, as rain is expected in the area. While it will probably not be enough to stop the fire in the Snowy River Complex, it will improve the conditions for the other two fires.