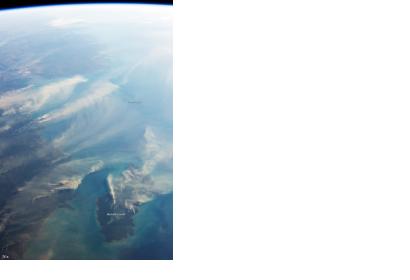 Smoke plumes from fires, volcanoes, and pollution are all reaching high into the atmosphere and can therefore very easily be detected from space. Most recently, Astronaut Karen Nyberg shot a photograph of fires around Darwin and Melville Island, Australia, on August 5, 2013, while looking west across the Timor Sea from the International Space Station (ISS). She also took a photo looking straight down on the fires.
According to Australian fire researcher Peter Jacklyn, fire researchers mostly rely on nadir, or straight-down, satellite views of fires because the images can be overlaid on traditional maps for the sake of studying hot spots and burn scars. But oblique views like the photo from Nyberg can be useful for studying plume structures. They are also incredibly useful, Jacklyn notes, for "communicating to people the impact and prevalence of fires."
During the month of August 2013, in the midst of the dry season, Australia's Northern Territory has suffered several fires, especially on Melville Island and Darwin territory. As Jacklyn noted, while fires near Darwin were probably wildfires, fires on Melville Island were likely prescribed burns, designed to prevent more serious wildfire as the weather warms. During the dry season, which lasts from roughly May to September, rainfall barely exceeds 10 millimeters (0.4 inches) for the month in August and the relative afternoon humidity hovers around 30 to 40 percent.