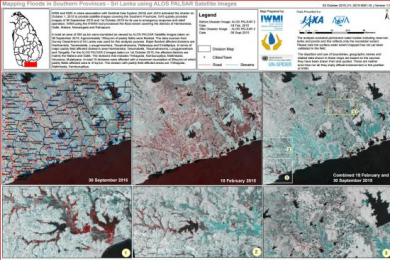 UN SPIDER's Regional Support Office in Sri Lanka International Water Management Institute (IWMI) in association with Sentinel Asia System (SAS) and JAXA activated the charter on October 1 to generate satellite images covering the Southern Provinces in Sri Lanka.
The imagery was provided to use in emergency response and relief operation. Floods were mapped on 30 September and 1 October 2015, using IFMAN tool and covering the districts of Hambantota, Galle, Mantara, Monaragala and Ratnapura.
An area of 365 sq.km was inundated, as the images of satellite ALOS PALASAR reported on 30 September. Around 150 sq.km of paddy fields were flooded. According to the satellite information provided on 1 October, in total 15 divisions were affected with a maximum inundation of 89 sq.km of which paddy fields affected area is 47 sq.km.
To access the emergency support page for the Sri Lanka flood, please click here.