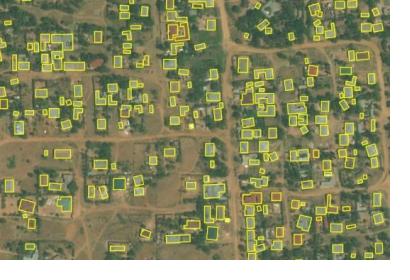 On 19 September, Bing announced that the United Republic of Tanzania and Uganda are the first African countries to have an open buildings dataset. As a result of a joint venture between Bing Maps, Microsoft Philanthropies and Humanitarian OpenStreetMaps (HOTOSM), 18 million building footprints have been established, of which 7 million in Uganda and 11 million in the United Republic of Tanzania. Datasets like these that are created with satellite data, can prove vital for disaster relief efforts, which are often obscured due to the lack of maps and therewith a lack of coordination in the area affected by the disaster.
The World Disasters report of 2018 by the International Federation of Red Cross and Red Crescent Societies (IFRC) states that 2 billion people were affected by disasters in the last ten years. In 2017, 201 million people needed humanitarian assistance and 18 million people were displaced due to weather-related disasters. Many of these disasters take place in areas which lack precise maps to assist relief efforts, igniting this joint endeavor.
The initiative aims to utilize the potential of AI in building open maps, focussing on integrating machine learning and bringing new open building dataset into Tasking Manager, the HOTOSM mapping tool. According to the Executive Director of HOTOSM, Tyler Radford, "machine learning datasets for OSM need to be open. We need to go beyond identifying roads and buildings and open datasets allow us to experiment and uncover new opportunities. Open Building Dataset gives us the ability to not only explore quality and validation aspects, but also advance how machine learning data assists mapping."
Bing is making the dataset open for download free of charge for research, analysis and OpenStreetMaps (OSM) on GitHub. With further development and expansion of this dataset, the future of improved relief efforts as well as disaster risk reduction looks promising.