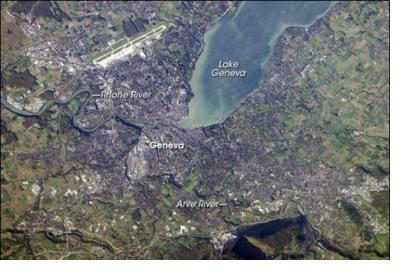 The United Nations Office for Outer Space Affairs (UNOOSA) is pleased to announce an agreement with the Swiss Government to support the development of new initiatives to advance the use of space-based tools and technology in the various areas of work of Geneva-based United Nations entities, international organisations or non-governmental organisations.
Funded by the Federal Department of Foreign Affairs and the Federal Department of Environment, Transport, Energy and Communications, the agreement aims at increasing awareness of the benefits of space-based tools and technology for environment and natural resource management, humanitarian affairs, peace building and security. Switzerland, a Member State of the Committee on the Peaceful Uses of Outer Space (COPUOS), hopes through this collaboration to strengthen the capabilities of Geneva-based entities in using space-based data, information, products and services
This collaboration will also support the work of UNOOSA, through its Programme on Space Applications and its Platform for Space-Based Information for Disaster Management and Emergency Response (UN-SPIDER), to contribute to the global agendas for disaster risk reduction, sustainable development and climate change. The implementation of the collaboration will also be facilitated by the Secretariat of the Group on Earth Observation (GEO) in Geneva.
For enquiries, please contact the project coordinator Luc St-Pierre, Senior Programme Officer (luc.st-pierre [at] unoosa.org)