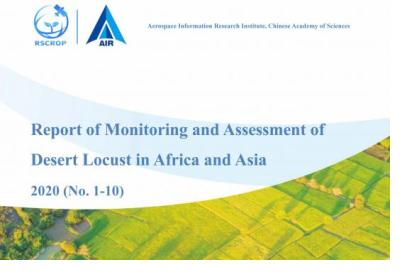 At the end of 2019, countries in the Horn of Africa began to suffer the impacts of locust swarms. Later, the locust migrated to regions in Southwest Asia. Unfortunately, the impacts on farmers are devastating. Furthermore, the combined impact of these locust plague and COVID-19 is having a toll of the livelihoods of many farmers in these regions. The Food and Agriculture Organization of the United Nations (FAO) has indicated that 42 million people are facing severe acute food insecurity because of this plague.
Since the end of 2019, the Aerospace Information Research Institute (ARI) of the Chinese Academy of Sciences (CAS) has been tracking the temporal and geospatial dynamics of the locust plague in the Horn of Africa, Eastern Africa, the Middle East and Southwest Asia. To track this plague, experts from the Vegetation Remote Sensing & Pest and Disease Application Research Team of ARI developed the Vegetation Pests and Diseases Monitoring and Forecasting System. This system integrates a variety of space-based data from different satellites. The capacity of satellites to observe most regions of the world in a very frequent basis allows ARI to monitor the plague in Africa and Asia for the time being.
Experts from ARI have monitored the migration paths and conducted assessments of the amount of area affected by this plague. By July 2020, experts from ARI noted that in India around one million hectares have been harmed by the plague; nearly 800,000 hectares in Pakistan; and nearly 70,000 hectares in Nepal. In the case of African countries, in Ethiopia the plague has affected more than one million hectares; nearly 940,000 hectares in Kenya; and nearly 780,000 hectares in Somalia. In the case of the Arabian Peninsula, experts from ARI report that in Yemen the plague affected nearly 760,000 hectares.
ARI has combined its monthly reports into one single document that can be accessed here.
More information on this locust plague is available from FAO.
In June, UN-SPIDER and the International Water Management Institute (IWMI) held a webinar on "Space-based Inputs for Locust Early Warning and Preparedness". The recording of that webinar can be accessed online.