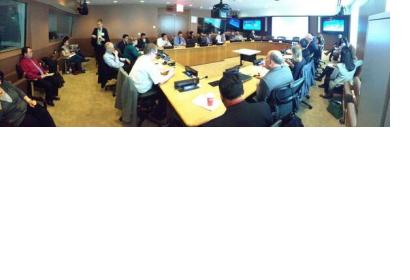 The United Nations Geographic Information Working Group (UNGIWG) held its 14th Plenary Meeting in New York from 14 to 16 May 2014, co-chaired by UNOOSA and UNDSS (Department for Safety and Security). The event was organized back-to-back with the 34th Interagency Meeting on Outer Space Activities (UN-Space).
Several UNGIWG member organizations presented their work during the meeting. OOSA presented the work of the International Committee on Global Navigation Satellite Systems (ICG) Working Groups, especially the recommendations related to reference frames, timing and applications. The Office also lead the discussions of the UNGIWG Task Force on GNSS and introduced resources and permanent GNSS (GPS and GLONASS) station data available through the International GNSS Service (IGS) to generate precise GPS/GLONASS products in support of Earth science research, multidisciplinary applications, and education. Other presentations were held by the World Bank, UNECA, UNOCHA or UNDSS, as well as UNGIWG partners such as Esri, the Open Geospatial Consortium (OGC) and Google.
Furthermore, the UNGIWG members discussed their working group's priorities, as well as challenges, actions and strategies for future cooperation. The meeting also included joint sessions with Member States and participants of UN-Space on the use of space technology within the UN system, Earth Observation data and efforts to share satellite imagery.
Formed in 2000, UNGIWG is a network of UN professionals working in the fields of cartography and geospatial information management science to address issues of common concern.