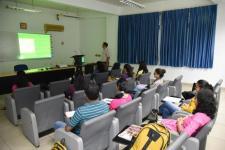 Centre for Space Science and Technology Education in Asia and Pacific (CSSTEAP)
Sat, Aug 1 2020 - Fri, Apr 30 2021
The Centre for Space Science and Technology Education in Asia and the Pacific (CSSTEAP) was established in India in November 1995 with its headquarters in Dehradun at Indian Institute of Remote Sensing (IIRS) which is a unit of Indian Space Research Organization (ISRO), Government of India.
The Centre has been imparting education and training, helping participants in developing research skills through its Master's degree and Post Graduate courses. This is achieved through class-room (theory and hands-on exercises), group discussions, field campaigns and pilot projects in the field of space science and technology. These programs aim at capacity building for participating countries in designing and implementing space-based research and application programs.
The Twelfth P. G. Diploma Course in Space and Atmospheric Science (SAS-12) is one of the disciplines covered by the Post Graduate Programmes offered by CSSTEAP and conducted at Physical Research Laboratory, Ahmedabad, India. Core Modules (Semester I and II) emphasize on the development and enrichment of the basic knowledge and skills of the participants in the field of Space and Atmosphereic Science. This is followed by pilot project, which provides an opportunity to fine-tune the skills for carrying out research in space science..
The course is designed towards the scientists, teachers, professionals and specialists of the Asia Pacific region, working in the government, autonomous or university systems and educational institutes in the field of space science and allied fields, who wish to improve their skills in the field of Space and Atmospheric Science and thereby improve their usefulness to their parent Institutes/Organizations. The prospective participants should possess a Master's degree in Physics/Astronomy/AstroPhysics/Solar Physics/Meteorology or other equivalent qualification relevant to Space and Atmospheric Science, OR Bachelor's degree in Engineering, (B.E./ B. Tech.) in Electronics and allied fields / Environmental Science/Engineering. Candidates having teaching or research experience would be preferred.
Physical Research Laboratory