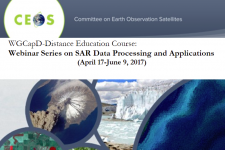 Mon, Apr 17 - Fri, Jun 9 2017
SAR remote sensing provides a new dimension for measuring various bio-geophysical parameters of the features on Earth surface. SAR sensors are advantageous in comparison to optical remote sensing because of their day/night capabilities and penetration through even dense cloud cover.
The CEOS Working Groups on Capacity Building and Data Democracy (WGCapD) cordially invites academics, scientists, researchers, and professionals interested in Synthetic Aperture Radar (SAR) Remote Sensing, data processing, and applications to register for this webinar series, which is offered free of charge.
The 8 sessions will be held each Monday, from 17th April onward, at 13:00 UTC. The duration of each webinar will be of 1 hour and will be followed by 30 minutes Question-Answer session.
Elementary knowledge about Remote Sensing, Geographic Information Systems (GIS) and Digital Image Processing is advised.
By the end of this webinar, participants will be able to:
Understand the concept of SAR Remote Sensing and its utility for different applications;
Understand the complex processing steps for SAR data and know of freely available software for processing it;
Know the advantages of PolSAR, InSAR, PolInSAR and PolSAR Tomography;
Select suitable SAR data and an appropriate methodology to get an output for specific applications.
A limited number of participants can be accommodated for this course. To register, please visit the following website:
http://elearning.iirs.gov.in/wgcapd/CEOS/
The deadline for registrations is 14 April 2017.