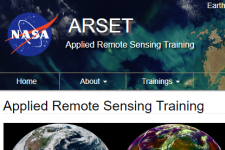 Tue, Mar 17 - Tue, Mar 31 2015
NASA Applied Remote Sensing Training Programme (ARSET) invites you to attend an online course on Global Precipitation Measurement (GPM) Data and Applications.
The course will be composed of three online training sessions aiming to introduce participants to the data and applications of the GPM (Global Precipitation Measurement) mission.
GPM is an international satellite mission that provides next-generation observations of rain and snow worldwide every three hours. The GPM mission will help advance the understanding of Earth's water and energy cycles, improve the forecasting of extreme events that cause natural disasters, and extend current capabilities of using satellite precipitation information to directly benefit society.
The course will be composed of three online training sessions taking place on the 17th, 24th and 31st of March 2015.
In order to facilitate national and international participation, each session will be presented in two different times: 12:00 GMT and 17:00 GMT.
Presentation documents will be available in English and Spanish.
The Agenda for the online sessions is as follows:
17 March - Introduction to precipitation remote sensing and overview of TRMM, introduction to GPM mission and sensors, examples of precipitation data applications.
24 March - Overview of GPM data products and data access.
31 March - GPM-IMERG Product, live demonstration of GPM data access and GIS applications.