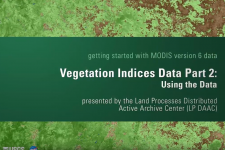 United States Geological Survey (USGS)
This short tutorial video focuses on the National Aeronautics and Space Administration's (NASA) Terra and Aqua Moderate Resolution Imaging Spectroradiometer (MODIS) Version 6 Vegetation Indices data distributed by NASA's Land Processes Distributed Active Archive Center (LP DAAC).
In this video, we'll provide you information about the MODIS Version 6 Vegetation Indices data products, discuss the scale factor of the data and other data values, and show you how to use a color map to visualize the Normalized Difference Vegetation Index (NDVI). In addition, the tutorial will also cover how to find Vegetation Indices resources on the LP DAAC website.
To learn more about NASA MODIS Version 6 Vegetation Indices data and other data products distributed by the LP DAAC visit, https://lpdaac.usgs.gov/.