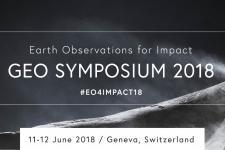 Group on Earth Observations (GEO)
Mon, Jun 11 - Wed, Jun 13 2018
GEO brings together the Earth observation community to explore 'Earth Observations for Impact'. Symposium sessions are to include: opportunities for integration in the application of Earth observations across Agenda 2030, the Paris Climate Agreement, and the Sendai Framework; challenges and opportunities for furthering data sharing and data management in GEOSS; collaboration between Regional GEOSS initiatives and GEO flagships, initiatives and community activities; engaging the commercial sector in the GEO Work Programme; roles for Earth observations in supporting the Paris Climate Agreement; transformative technologies in Earth observations and how GEO can help shape their development; and dialogue with the GEO programme board. Earth Observations for Impact (#EO4Impact) will be a common thread throughout the Symposium.
The 2018 GEO Climate Workshop will occur on the 13th June. The workshop will take stock of climate initiatives and activities in the GEO Work Programme and beyond, including the work of key organizations including GCOS, IPCC, WMO and UNFCCC, in order to identify gaps and develop tangible action areas. It will address all relevant areas in the Paris Agreement, focusing on areas where GEO can provide most added value: adaptation, loss & damage and capacity development. The overall objectives of the workshop are to: enhance the understanding of how the Earth Observation community can support the implementation of the Paris Agreement, and; to discuss a more integrated approach to climate across the GEO Work Programme.
Anyone working to ensure Earth observations play a central role in decision making across environmental and development domains is welcome to attend. We encourage participation from those already involved in the GEO Work Programme, as well as those interested in getting involved.
World Meteorological Organization Building