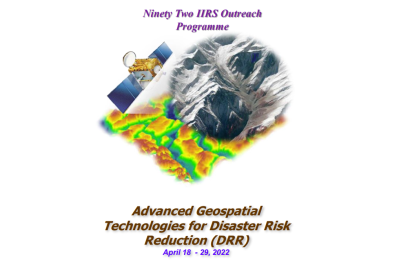 Indian Institute of Remote Sensing (IIRS), Indian Space Research Organisation (ISRO)
Mon, 18 Apr - Fri, 29 Apr 2022
Natural disasters are becoming more frequent and intense across the globe. Enhancing resilience to increasing hazards, exposure, and vulnerability therefore requires leveraging of advanced geospatial technologies for better disaster mitigation and management. With continuous improvements in satellite data sensor acquisition parameters together with geo-computational approaches, geospatial technologies have emerged as the most powerful technology for all phases of disaster management. The course on advanced geospatial technologies for Disaster Risk Reduction (DRR) is scheduled from April 18 - 29, 2022 .
Course Content
Overview of remote sensing & Geographic Information System
Application of satellite communication technology for disaster mitigation
Overview of UAV for disaster monitoring and mitigation
Emerging geo computation, online GIS & Geo-web services for DRR
Advanced application of Geospatial Technologies for Geological Hazards, Hydrological Hazards, Forest Fire Hazards, Drought Hazards, Coastal Hazards, Atmospheric & Pollution Hazards
Professionals from Central / State Govt. / Private Organizations / NGO engaged in geospatial data analysis related research and projects; students and researchers aligned to research in Disaster Risk Reduction (DRR).