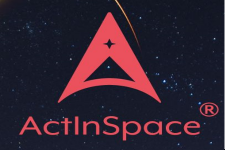 French Space Agency (CNES)
Centre national d'études spatiales (CNES), European Space Agency (ESA), Aerospace Valley
Fri, Nov 13 - Sat, Nov 14 2020
ActInSpace is an international innovation contest inspiring young women and men worldwide to meet challenges based on space technologies, data, patents and infrastructures to launch start-ups into all areas of our daily lives. Designed for students but open to everyone, the objective is to foster entrepreneurship, encourage start-up creation and promote the use of space technologies and space acquired data to change citizen's lives, to boost employment and to protect our planet.
ActInSpace offers the opportunity for participants to work on creating business prospectives for the challenges by the use of patents, technologies and satellite data made available by CNES, ESA and Airbus to create start-ups. The challenges are based on high-level technologies, which nevertheless are easy to re-use because they have been selected due to their potential for commercial applications. They revolve around a variety of themes, amongst them environment, climate change, disaster management, IT, health, and security.
Registrations will open in September.