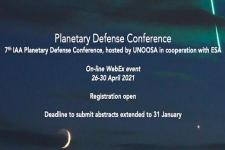 International Academy of Astronautics (IAA)
United Nations Office for Outer Space Affairs (UNOOSA), European Space Agency (ESA)
Mon, Apr 26 - Fri, Apr 30 2021
The International Academy of Astronautics (IAA) will hold its 7th Planetary Defense Conference (PDC) on April 26-30, 2021. The bi-annual conference brings together world experts to discuss the threat to Earth posed by asteroids and comets and actions that might be taken to deflect a threatening object. A broad theme of the conference is to identify the technologies, techniques, missions, data sets, and processes that most need development for an international program of planetary defense. The conference will be hosted by the United Nations Office for Outer Space Affairs (UNOOSA), in cooperation with the European Space Agency (ESA).
In consideration of the prevailing circumstances, the PDC organizers have decided that the 2021 PDC will be conducted virtually. Participation will be limited to the maximum number of selected applicants as per capacity of the online platform.
The conference will include a hypothetical NEO/Earth impact event scenario that will be part of the conference (similar to what was done at the 2013, 2015, 2017 & 2019 conferences). Conference attendees may also use the hypothetical scenario as their topic for papers and presentations.
Information on the call for papers is available in this leaflet. 
To register for the conference, please click here.