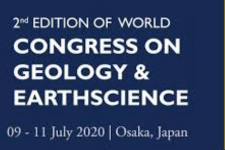 GeoEarth-2020, Innovinc International
Thu, Nov 12 - Sat, Nov 14 2020
GeoEarth-2020 welcomes colleagues from all branches of Geosciences and from many countries in the world to participate to the second edition of thw 'World Congress on Geology and Earth Science'. The Conference will enable the sharing of best practices in Geoscience as well as exploring the role of remote sensing in monitoring Earth processes and dynamics.
The topics of the Conference include:
Environmental Geology, 
GIS, Remote Sensing and Geospatial Sciences, 
Marine Geosciences and Oceanography,
Groundwater and Hydrology: Surface Hydrology/Surface Water,
Rock Deformation and Structural Geology,
Volcanology and Plate Tectonics,
Earth, Ecology and Ecosystems,
Soil Science and Conservation of Soil Biodiversity.