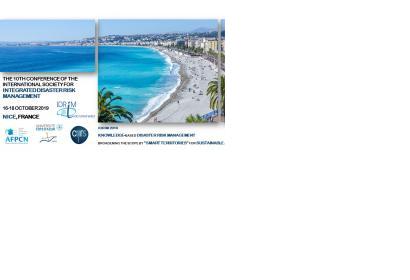 Centre national de la recherche scientifique (CNRS)
University of Nice (UMR ESPACE) and AFPCN (French Society for the Prevention of Natural Disasters) 
Wed, Oct 16 - Fri, Oct 18 2019
The 2019 annual event for researchers and practitioners in integrated disaster risk management (IDRiM) will focus on the issues of "Knowledge-based Disaster Risk Management: Broadening the scope by « Smart Territories » for Sustainable and Resilient Cities and Organizations".
The main themes of "Smart" are related to integrating the "knowledge society and knowledge economy, sustainable development, and social inclusion", with complexity theory, such as, for example, the important role of interconnectivity of networks and feedback effects. How and when this connectivity becomes positive or negative is both a challenge for "hard" sciences (e.g. what are the formal methods that provide valid tools to assess the efficiency of networks, as in see graph theory) and "soft" sciences in the field of risk, resilience and disasters (e.g. participative and deliberative governance frameworks).
The IDRiM2019 conference brings together researchers and scientists, regulators, risk and insurance, safety and security practitioners, media and NGOs to share expertise and practices on these two challenges:
How to improve the common understanding of major extreme risks, man-made and natural disasters;
How to foster individual, organizational and territorial abilities to manage and govern known and emerging risks and resiliencies.
Centre universitaire méditerranée (CUM)