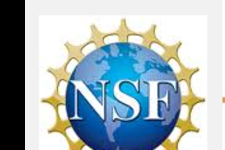 The National Science Foundation (NSF) is an independent federal agency created by Congress in 1950 "to promote the progress of science; to advance the national health, prosperity, and welfare; to secure the national defense…"
An essential element in NSF's mission is support for science and engineering education, from pre-K through graduate school and beyond. The research we fund is thoroughly integrated with education to help ensure that there will always be plenty of skilled people available to work in new and emerging scientific, engineering and technological fields, and plenty of capable teachers to educate the next generation.
The NSF supports OpenTopography, a funded data facility that aims at democratizing the access to high-resolution topographic data in a manner that serves users with varied expertise, application domains, and computing resources. The Open Topography facility is based at the San Diego Supercomputer Center at the University of california, San Diego, and is operated in collaboration with colleagues in the School of Earth and Space Exploration at Arizona State Unievrsity. 
Website: http://www.nsf.gov/