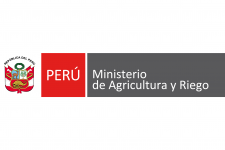 The Ministry of Agriculture and Irrigation of Peru (MINAGRI) is the institution of the Peruvian State in charge of the agricultural sector. It is headquartered in Lima, Peru.
Its objectives are:
To strengthen producer organizations and promote their integration under the management approaches of the productive basins and chains.
To promote technological innovation and training linked to the business management of the agricultural producer, providing technical assistance.
To establish an agrarian information system that allows economic agents to make efficient management decisions.
To facilitate agricultural producers access to legal, administrative, management, financing, technical assistance, health and other services that allow them to improve their management capacity.
To facilitate the articulation of small agriculture with the market economy, through the establishment of policies for the adequate use of natural resources.