South African Risk and Vulnerability Atlas (SARVA - SAEON)
,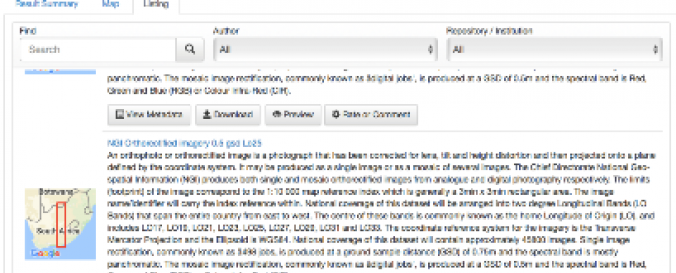 Data provided by:
South African Environmental Observation Network (SAEON)
Data accessibility:
export data, export map
Link to the data:
File type:
GeoTIFF, jpeg, jpeg, png, png, SRTM
Data type:
hazard specific data
Hazard:
Epidemic, Forest Fire, Drought, Flood, Extreme Temperature, Pollution
Disaster cycle phase:
Disaster Risk Management, Response, Recovery
Satellites and Sensors:
n/a
Spatial coverage:
South Africa
Temporal coverage:
Archive
Technical Specifications:
Technical Specifications:
Metadata
Costs:
free
Contact:
South African Environmental Observation Network (SAEON) - networks@saeon.ac.za
Tutorials on the use of data:
n/a
Restrictions/ Citation of the dataset:

Conditions of Use We subscribe to Open Access principles but ask that you cite your sources. SAEON data, website content, and publications are generally made available under the Creative Commons Attribution-ShareAlike 4.0 International License. Please read the license to familiarise yourself with its provisions. Some data sets or materials may carry additional restrictions, these are provided on a case-by-case basis.

Disclaimer The limits to responsibility and liability While every reasonable effort is made to maintain current and accurate information on this site, SAEON accepts no responsibility for any error or omission on these pages or any site to which the site pages link, or for direct or indirect damage as a result of the usage or quoting the content on the site or the information delivered or not delivered or as a result of the downloading of computer files or the usage of computer programs available on the site. Where appropriate, external links have been provided for the user's convenience. SAEON is not responsible for the content or reliability of linked websites and does not necessarily endorse the views expressed in them. Listing shall not be taken as endorsement of any kind.SAEON cannot guarantee that these links will work all of the time and has no control over the availability of the linked sites or pages. SAEON provides meta-data descriptions of and links to its own data and that of others in the community of practice, in the belief that this will be useful and in support of Open Access to scientific publications and data. We cannot be held responsible for the quality of data provided by third parties, and while we take reasonable care in referencing these data sets, the content of both meta-data and data is under control of the third-party provider.