Global Runoff Data Centre (GRDC - WMO)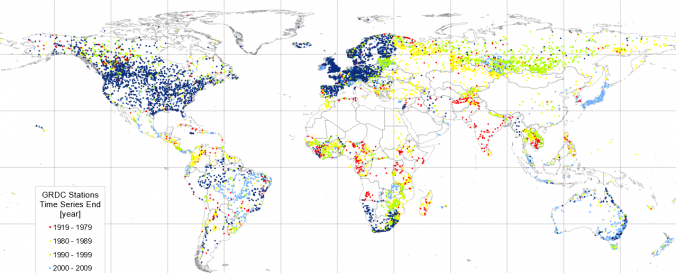 Data provided by:
World Meteorological Organization (WMO)
Data accessibility:
export data, statistical data (e.g. graphs), visualization of data (e.g. web GIS or real time monitoring)
Link to the data:
File type:
asc, xml
Data type:
baseline data
Hazard:
Flood
Disaster cycle phase:
Disaster Risk Management
Satellites and Sensors:
n/a
Spatial coverage:
Global
Temporal coverage:
Archive
Technical Specifications:
n/a
Costs:
free
Contact:
grdc@bafg.de
Tutorials on the use of data:
FAQ: tips and tricks
Restrictions/ Citation of the dataset:

All hydrological data offered on this website are managed by GRDC with permission of the data owners, usually the National Hydrological Services who created the data. All hydrological data remain property of the owner and may be used only for research purposes.

Commercial use of the hydrological data is not allowed. The redistribution of the downloaded hydrological data either in part or total to unauthorized persons, third parties or to the general public (incl. by electronic media) is not allowed.

The analysis and further processing of hydrological data as well as the use of statistical data products is permitted with an appropriate reference to the source of data as: "The Global Runoff Data Centre, 56068 Koblenz, Germany".