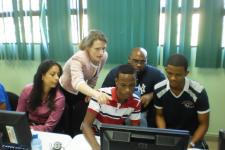 The training course in Santo Domingo was co-organized by the National Emergency Commission in its role as coordinator of the National Council for Prevention, Mitigation and Disaster Response and UN-SPIDER. It was conducted as a first step to strengthen the remote sensing capacities of EIGEO-GR to derive flood-related information from satellite imagery. The course was conducted from 13-17 May 2013 in the premises of the National Emergency Commission.
Remote Sensing in the Context of Floods
UN-SPIDER, CATHALAC and IGAC
Members of the Interinstitutional Geo-Spatial Information Team for Risk Management (EIGEO-GR)
Following the recommendations of the Technical Advisory Mission (TAM) conducted in January 2010 as well as the consequent Institutional Strenghtening Mission (ISM) in November 2011, the interinstitutional Geo-Spatial Information Team for Risk Management (Equipo de Información Geo-Espacial para Gestión de Riesgos - EIGEO-GR) was established in the Dominican Republic. It incorporates nearly 15 government ministries, agencies and university centers. EIGEO-GR is headed by a representative of the National Emergency Commission (Comisión Nacional de Emergencias).
The one-week training for EIGEO-GR members in Santo Domingo focused on the use of space-based information in case of floods. It comprised lectures as well as hands-on training using different data types and software packages.