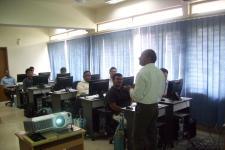 From 12 to 16 May 2013, as a follow-up to the UN-SPIDER technical advisory mission to Bangladesh in 2011, UN-SPIDER organized a capacity-building programme on the topic of space technology for flood hazard mapping, flood forecasting and rapid mapping in Bangladesh. The programme was jointly organized with the Comprehensive Disaster Management Programme of the Ministry of Disaster Management and Relief.
Space Technology for Flood Hazard Mapping, Flood Forecast and Rapid Mapping in Bangladesh
A total of 20 officials from 17 government departments in Bangladesh participated in the programme. These departments included: Department of Disaster Management (DDM), Bangladesh Space Research and Remote Sensing Organization (SPARRSO), Bangladesh Bureau of Statistics , Local Government Engineering Department (LGED) , Bangladesh Meteorological Department (BMD) , Forest Department, Flood Forecast and Warning Center (FFWC), Joint Rivers Commission, Bangladesh (JRCB), Urban Development Directory (UDD) , Institute of Water and Flood Management (IWFM) , Dhaka University (DU), Department of Agricultural Extension (DAE) , Geography /Disaster Science and Mngt. Dept, Dhaka, Dhaka WASA, Armed Forces Division (AFD), Survey of Bangladesh (SoB), Water Resources Management Organization (WRMO).
The training covered a wide range of topics such as an overview of the role of Earth Observation in disaster management, the regional plan of action on promoting Space and GIS applications for disaster risk management and sustainable development, global and regional flood hotspot assessment, flood hazard/risk mapping, multi-hazard risk and vulnerability assessment, flood inundation mapping using multi-resolution satellite data, flood response rapid mapping etc. Participants were also offered hands-on sessions to develop skills in mapping and modelling floods.
The complete training report is available for download here.