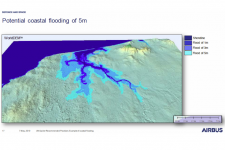 This Recommended Practice allows users to visualize the geographical extent of coastal flooding or sea level rise on local, regional or global scale (depending on the resolution and accuracy of the incoming digital elevation model). It can be used exclusively as a first approximation to determine areas that are prone to inundation and can serve as a first assessment for further, more in-depth analysis of coastal flood and sea level rise assessment. The Recommended Practice is developed using the World Digital Elevation Model (WorldDEMTM) product of Airbus Defence and Space. For the sake of clarity - the Recommended Practice has not been developed for any other use and purpose than the above described one and is consequently not usable for and in navigation, any hazardous environment requiring error free performance.
Larger Accra region, Ghana
The coastal region of Ghana was heavily affected by tidal waves in June 2017. Many people have been displaced and houses, infrastructure and fishing gear (boats, nets) have been destroyed. This Recommended Practice can be a first assessment to apply further analysis to identify safer ground for relocation of exposed communities. For more information please refer to following link provided by the National Disaster Management Organization of Ghana (NADMO): http://nadmo.gov.gh/index.php/archive/13-nadmo-articles/71-nadmo-tours-areas-affected-by-tidal-waves.
Airbus contact:
For any questions related to Airbus disaster management applications using Earth Observation technology or WorldDEMTM product, feel free to get in touch with the authors:
Ciro Farinelli
Future SAR Programs Manager, Airbus Defence and Space / Intelligence
ciro.farinelli (at) airbus.com
Nora Meyer Zu Erpen
Application Developer, Airbus Defence and Space / Intelligence
nora.meyer-zu-erpen (at) airbus.com
The model can be applied to any coastal region of the world.