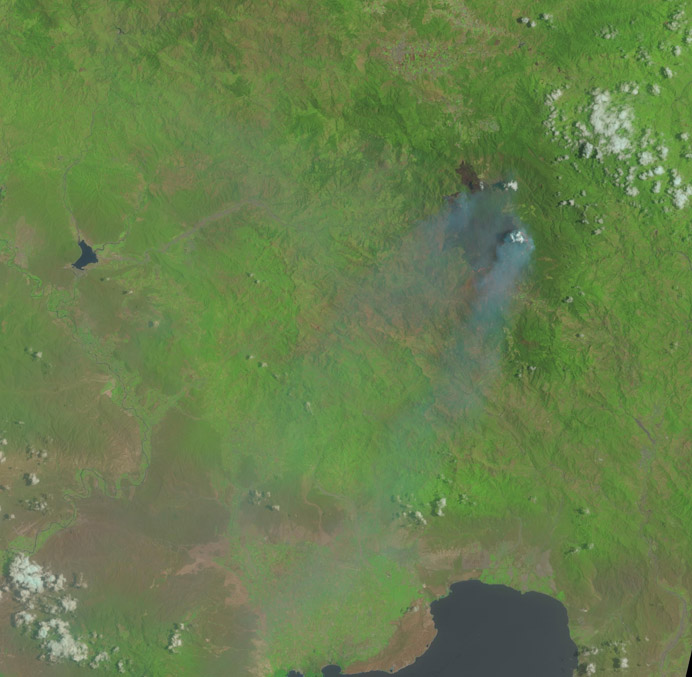 Since 20 July 2014, the Dominican Republic has been affected by forest fires. The fires have charred large parts of Valle Nuevo National Park, Constanza during the last few days devastating more than 1,300 hectares of pine forests, local residents say. The Dominican Republic has already suffered from the first seasonal fires caused by drought in early July near the town of Mata Grande, San José de las Matas, in an area next to the Central Mountains. At the time, responders had been able to control these fires.
The Environment Ministry said Monday, 28 July, it requested international assistance as the fires were spreading. In response, United States ambassador James W. Brewster on Tuesday, 29 July, said Washington will help the Dominican government with funds and equipment to fight the forest fire. The United States Agency for International Development USAID has also confirmed its support.
The Global Fire Monitoring Centre has activated its Caribbean and Mesoamerican Wildland Fire Networks to provide support.
UNOOSA/UN-SPIDER has received a request for support by the National Emergency Commission of the Dominican Republic to strengthen response efforts with satellite imagery and derived mapping products allowing responders to get a clearer picture of the extent and location of the fires. UN-SPIDER has facilitated the activation of the International Charter: Space and Major Disasters through USGS on behalf of the National Emergency Operations Centre of the Dominican Republic in order to obtain satellite-based emergency maps.
Download the area of interest: KMZ file (1.31 KB)
Available satellite data and products
| Data | Costs | Dates | Provider | download/ order | comment |
| --- | --- | --- | --- | --- | --- |
| Landsat, Worldview | free (direct download of Landsat data, need to request access for WorldView data) | 2.2.2013-28.72014 (continuously updated) | USGS Hazard Data Distribution System (HDDS) | HDDS browse and download | direct access to Worldview and Landsat data |
| International Charter on Space and Major Disasters | free | 28 July 2014 | International Charter: Space and Major Disasters and German Aerospace Centrer (DLR) | Fire in La Vega | Disaster Extent Map - Burnt area in La Vega Province |
| Landsat 8 | free | 28 July 2014 | USGS | Click on "download" in the kmz file or browse and download using EarthExplorer | Image capturing the active fires. |
| SPOT vegetation | free | 1998 - May 2014 | VITO | browse footprints and metadata and download data | All SPOT vegetation products older than three months (1998-2014) are available for free. |
| SPOT and Pleiades | paid | Jan 2010 - to date | Airbus Defense and Space | Upload the AOI kmz file to the browse and order window (paid) | Latest image (as of 30 July 2014): 18 July 2014 |
| Wildfire Automated Biomass Burning Algorithm (WFABBA) | free | near real time | CIMSS, SSEC, Wisconsin University, NOAA | WFABBA website | |
| Fire Radiative Power | free | near real time | COPERNICUS | MACC project website | |
| Global daily MODIS satellite fire products | free | near real time | University of Maryland, GFMC, GOFC-GOLD, ISDR | compilation of MODIS fire products | |
Search our database on data sources to find more data.