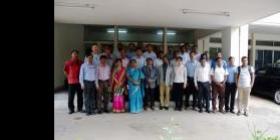 Bangladesh Department of Disaster Management (DDM)
This mission included a training course organized by UN-SPIDER, the Department of Disaster Management and the Comprehensive Disaster Management Programme, operated by the United Nations Development Programme (UNDP) at the facilities of the Bangladesh Space Research and Remote Sensing Organization.
The course objectives were to strengthen existing damage and loss assessment practices with the help of satellites in the sectors of agriculture, housing, road infrastructure and demography. Lectures and hands-on exercises were conducted by nine experts from UN-SPIDER, NDRCC, the International Water Management Institute (IWMI), ICIMOD, Nice Sophia Antipolis University, the Asian Disaster Preparedness Centre, the South Asian Association for Regional Cooperation Disaster Management Centre, DigitalGlobe and SwissRe.