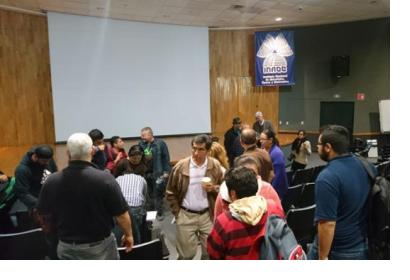 The United Nations Office for Outer Space Affairs (UNOOSA), through its programme on Space-based Information for Disaster Management and Emergency Reponse (UN-SPIDER), visited the Mexico Campus of the Regional Centre for Space Science Technology Education for Latin America and the Caribbean (CRECTEALC). The visit included meetings with the Director of the Mexican Institute for Astrophysics, Optics and Electronics (INAOE), which hosts CRECTEAL, with the Executive Secretary of CRECTEALC and with the Director of the Mexico Campus of CRECTEALC. The meetings were used to discuss synergies between UNOOSA and CRECTEALC, as well as on-going efforts.
The opportunity was used by the Head of the UN-SPIDER Bonn Office to make staff of INAOE and CRECTEALC aware of UNOOSA and the UNISPACE+50 process, as well as efforts being conducted by UN-SPIDER in Latin America and the Caribbean, including technical advisory support to Central American and Caribbean countries.
The visit to the Mexico Campus of CRECTEALC in Tonazintla, Puebla, Mexico, was conducted back to back with the UNOOSA/Mexican Space Agency (AEM) Regional Expert Meeting entitled Enhancing the Use of Space-based Information in Multi-Hazard Early Warning Systems. The meeting took place from 11 to 13 July 2017 in the premises of the Mexican National Centre for Disaster Prevention (CENAPRED) in Mexico City, Mexico.