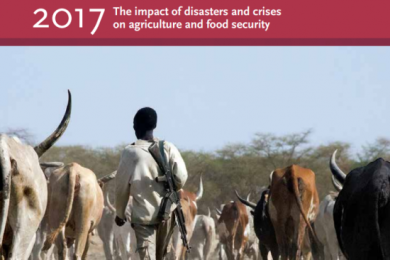 Climate-induced disasters have dramatically increased over the past three decades, with floods, droughts and tropical storms causing the most significant impact in the agricultural sector.
To provide an update to their 2015 report, the Food and Agricultural Organisation (FAO) of the United Nations has released its 2017 report on "The Impact of Disasters on Agriculture and Food Security". The document shows existing sector damage and losses in order to understand current vulnerabilities and resilience, and to further inform risk reduction measures and investment.
From 2003 to 2013, disasters cost 1.5 trillion USD in economic damage worldwide, and, according to the 2015 Report of the Secretary-General on the Implementation of the International Strategy for Disaster Reduction, "Economic losses [from natural hazard-induced disasters] have reached an average of 250 billion to 300 billion USD per year." However, global statistics on damage or losses do not account for the impact on individual sectors, as this data is not collected or reported in a systematic way by sector at national levels. The report calls for better recording and standardizing of data collection and establishing regular reporting at the global, regional, national and subnational levels.
Improved data collection, the systemization of this data, analysis and information, and advanced monitoring systems for damage and losses to agriculture are modern strategies which can be utilized to improve the current state of disaster management risk reduction and mitigation.
FAO's new report highlights that satellite data, in particular through remote sensing, can be a useful tool in determining the size, location, and distribution of areas affected by a disaster. For example, they highlight that during Hurricane Matthew in Haiti in 2016, such data was used to assess tree cover damage and vegetation recovery.
Quality, consistency and clarity of existing data are important factors in their usability. Currently, there is no integration of remote sensing data with aerial field observations (by drone or helicopter)To ensure comprehensive monitoring, FAO argues for an integration of remote sensing data with aerial field observations, which is currently limited, could help to improve the quality and clarity of available data.
This article was contributed by Madison Kennewell and Lenard Sciancalepore, UN Online Volunteers mobilized through www.onlinevolunteering.org.