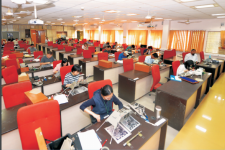 Centre for Space Science and Technology Education in Asia and the Pacific
Indian Institute of Remote Sensing
Wed, Jul 1 2020 - Wed, Mar 31 2021
The educational programme of the Centre is oriented towards the dissemination of knowledge in relevant aspects of space science and technology. The emphasis of the Centre is to deliberate on education and research for natural resource management along with linkages to the global programmes/databases, pilot studies, continuing education & awareness and appraisal programmes. The curriculum has been developed under the auspices of the UN Office for Outer Space Affairs (UN-OOSA) and the guidelines emerged from the meetings held for Education Curriculum Development for the Centre at Granada, Spain in February/March 1995.
(i) Post Graduate programme: P.G. Diploma Courses of nine months duration are organised in the following disciplines:
Remote Sensing and Geographic Information System (RS and GIS) (at IIRS, Dehradun)
Satellite Communications (SATCOM) (at SAC, Ahmedabad)
Satellite Meteorology and Global Climate (SATMET) (at SAC, Ahmedabad)
Space and Atmospheric Sciences (SAS) (at PRL, Ahmedabad)
Global Navigation Satellite Systems (GNSS) (at SAC Ahmedabad)
Core Modules (Semester I and II) emphasize on the development and enrichment of the basic knowledge and skills of the participants in the technology. This is followed by pilot study, which provides an opportunity to fine-tune the skills for executing theme-based study.
(ii) Master programme: This programme gives an opportunity and continuity in developing higher research skills for those who have completed successfully the nine months P.G. Course. This is subject to qualifying for admission requirements of Andhra University, India. A research project by the scholars is conducted and executed in their respective countries with a view to transfer the technology in his/her organization. It will also be a test of the methodology and knowledge assimilated during phase-I at the centre.
(iii) Short Courses: Besides P.G. level courses, the centre also conducts short term courses of two to four weeks duration in specific themes of above subjects regularly
Indian Institute of Remote Sensing Indian Space Research Organization Department of Space,