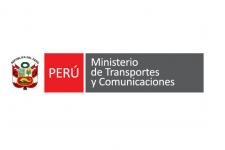 The Ministry of Transportation and Communications of Peru (MTC) is the organ of the Peruvian State that seeks to achieve a rational territorial order linked to the areas of resources, production, markets and population centers, through the regulation, promotion, execution and supervision of the transport and communications infrastructure. Its main headquarters are located in Lima, Peru.
MTC functions include: 
Design, regulate and implement the policy of promotion and development in the field of Transportation and Communications.
Formulate sectoral national development plans.
Monitor and supervise compliance with the regulatory framework related to its area of competence.
Grant and recognize rights through authorizations, permits, licenses and concessions.
Guide the operation of Decentralized Public Bodies, Sectoral and Multisectorial Committees and Projects or similar entities that constitute them within the scope of their competence.
Plan, promote and manage the provision and provision of public services, according to the laws of the matter.
To carry out executive functions throughout the national territory directly or through special projects or similar entities that substitute them with respect to the activities indicated in the Organization and Functions Regulations.