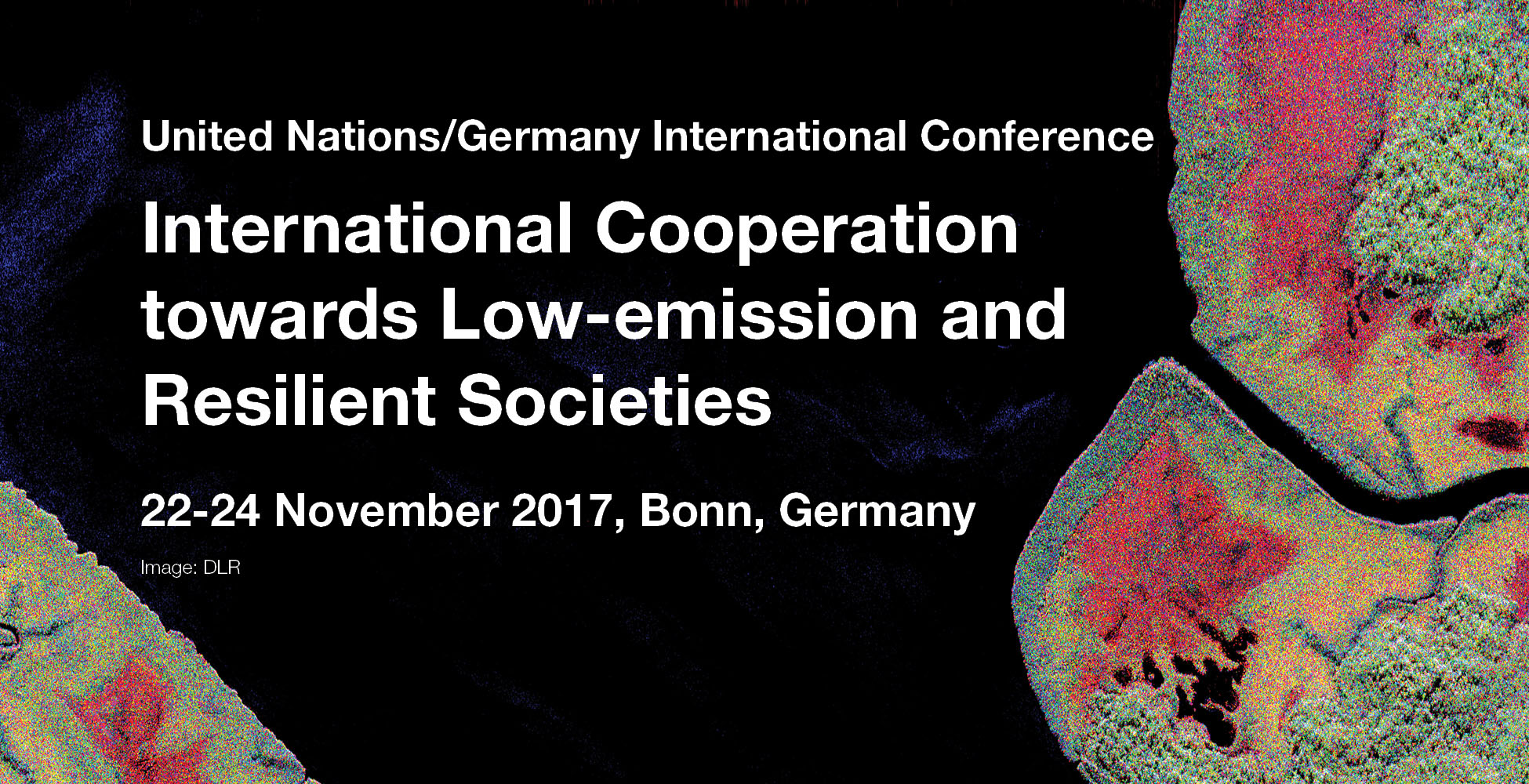 The United Nations/Germany International Conference on International Cooperation Towards Low-Emission and Resilient Societies took place from 22 to 24 November 2017 at the UN Campus in Bonn, Germany.
The Bonn Declaration, adopted at the event, can be accessed here.
The event was organized by the United Nations Office for Outer Space Affairs (UNOOSA) in cooperation with the German Aerospace Center (DLR) and the German Federal Ministry for Economic Affairs and Energy (BMWi).
Resources
---
Presentations
Presenter
Title
Presentation
Luc St-Pierre (UNOOSA)
The UNISPACE+50 process and the Space2030 Agenda
Download
Pascale Ehrenfreund (DLR)
Space technologies to contribute to the Space2030 Agenda
Panel of Space Agencies
Jean-Yves Le Gall (CNES)
Climate change: A global challenge for the world and for space
Download
Roberto Battiston (ASI)
ASI contribution to climate change and disaster risk reduction- Implementation of the sustainable development goals (Agenda 2030)
Download
Session 1: The role of space technology aplications for disaster risk reduction and climate change
Plenary Presentations
Hansjörg Dittus (DLR)
The role of space technology aplications for disaster risk reduction and climate change
Download
David Stevens (UNISDR)
DRR and CCA – Quo Vadis ?
Download
Juliette Lambin (CNES)
CNES actions towards risk mitigation and climate change monitoring
Download
Florin Vladu (UNFCCC Secretariat)
Role of space technology application for climate change –where are we going?
Download
Working Group 1 - Goals and Targets
Olena Dubovyk (EvIDENz)
Earth Observation based information products for drought risk reduction on the national level
Download
Nataliia Kussul (NASU-SSAU)
Earth observations for SDG monitoring in Ukraine
Download
Rahul Sengupta (UNISDR)
Role of Space Technologies to Contribute to the Monitoring of Goals and Targets (Sendai Framework for Disaster Risk Reduction 2015-2030)
Download
Working Group 2 - Risk reduction and adaptation for sustainable development
Markus Enenkel (SOS Children's Villages)
The big added-value of small communities
Download
Fabian Löw (BKK)
Use of satellite technologies at the Federal Office of Civil Protection and Disaster Assistance
Download
Silvia Pardi (Federal University of Santa Maria)
Strengthening Early Warning Systems for Droughts (SEWS-D)
Download
Working Group 3 - Understanding climate and disaster risk
Jennifer Debrum (NDMO)
Republic of the Marshall Islands
Download
Francis Ohemeng (Ghana Irrigation Department)
Space technology for flood water harvesting for irrigation and other uses
Download
DanLing Tang (South China Sea Institute of Oceanology, Chinese Academy of Sciences)
Typhoon impact on Marine Ecosystem
Session 2: Networks, big data and integrated systems
Plenary Presentations
Stefano Natali (MEEO)
Digital Earth Platform to enable mutli-disciplinary geospatial applications
Download
Thomas Weissenberg (ESA)
ESA space applications for the three global agendas
Thomas Kemper (European Commission JRC)
The European Commission's science and knowledge service Joint Research Centre
Download
Douglas Cripe (GEO)
The Group on Earth Observations (GEO)
Download
Working Group 1 - Sustainable Development Goals
Leonor Rodriguez (IGAC)
Role of the geographical insitute in risk management, climate change and sustainable development
Download
Terrence Fernando (ThinkLab, University of Salford)
Digital Innovations for Supporting Sustainable Development
Download
Tania Lado Insua (Ocean Networks Canada)
The role of ocean observatories in climate change monitoring, multi-hazard early warning and disaster risk reduction
Download
Working Group 2 - Climate Change
Iphigenia Keramitsoglou (IAASARS/National Observatory of Athens, Greece)
Emergency notification system for extreme temperatures
Download
James Adamu (Nigerian Meteorological Office)
Flood and Drought Monitoring using in situ data in Nigeria
Download
Eleonora Semakova (Uzbekistan Academy of Sciences Tashkent, Uzbekistan)
Using of space technologies for glacier-and snow-related hazards studies
Download
Working Group 3 - Disaster Risk Management
Silvia Helden (Andean Committe for Disaster Prevention)
Andean committee for the prevention and attention of disasters
Download
Fatemeh Fereydooni (Iranian Space Agency)
The use of space technologies in disaster risk management
Download
Yao Kiatchey (National Disaster Management Office Ghana)
Societal Resilience using Space Technology - Ghana as a case study
Download
Session 3: Space-based systems for low-emission and resilient societies: The way forward.
Plenary Presentations
Jens Danzeglocke (DLR)
Possible contributions of radar-based Earth observation to disaster risk reduction and climate adaptation
Download
Shirish Ravan (UNOOSA)
Thematic Priority 6: International cooperation towards low-emission and resilient societies
Download
Athiye Jawad (Planet)
Disaster Risk Reduction + Climate Change Monitoring + Sustainable Development: The insights economy through collaborations for today and tomorrow
Working Group 1 - Satellite constellations for sustainable development
Isabelle Duvaux-Béchon (ESA)
Space-based systems for resilient and low-emission societies
Download
Luisa Santoro (ASI)
The COSMO-SkyMed constellation's contribution to address disaster risk reduction, climate change and sustainable development
Download
Working Group 2 - Requirements Agenda2030 and development cooperation
Antje Hecheltjen (GIZ)
Usage of Earth observation for DRR, CCA and SDGs in German international cooperation
Download
Working Group 3 - International groups, platform and partnerships
Lena Halounova (International Society for Photogrammetry and Remote Sensing)
SDG and International Society for Photogrammetry and Remote Sensing (ISPRS)
Download
Juan-Carlos Villagran (UNOOSA)
UN-SPIDER General Overview
Download
Christine Zeiser (Louise-Schroeder-Vocational-College, Wiesbaden)
Managing and Conducting Awareness-Making Processes
Download