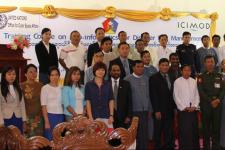 As a follow-up to a Technical Advisory Mission to Myanmar in March 2013, UN-SPIDER and the International Centre for Integrated Mountain Development (ICIMOD) jointly organized the national training course "Geo-informatics for Disaster Risk Management" in Nay Pyi Taw, Myanmar. The programme was supported by the Relief and Resettlement Department (RRD) of the Ministry of Social Welfare, Relief and Resettlement and the UN OCHA Myanmar Office.
Title of training:
Geo-informatics for Disaster Risk Management
Trainers:
Experts from UN-SPIDER and ICIMOD as well as invited experts from Wuhan University, China and the Myanmar Information Management Unit.
Target group:
Twenty participants from various line ministries and departments involved in supporting disaster risk management and emergency response in Myanmar attended the training course. Key officials from the following departments/agencies were among the participants: Relief and Rehabilitation Department (RRD), Department of Water Research and Improvement of River Systems (DWRIRS), Myanmar Information Management Unit (MIMU), Fire Services Department (FSD), Myanmar Engineering Society (MES), Natural Resources Utilization Department (NUD), Public Works Department (PWD), Irrigation Department (ID), Forest Department (FD), Rural Development Department (RDD) and the General Administration Department (GAD).