Description: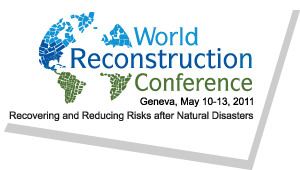 World Reconstruction Conference
WRC will be the first large-scale global conference focused on natural disaster recovery and reconstruction. It is anticipated that WRC and the Global Platform will bring together over 2,000 leaders, experts, policy makers, and practitioners, from government, international organizations, NGOs, academia, and the private sector from both developing and developed countries to collect, assess, and share disaster reconstruction and recovery experiences and take forward the policy dialogue for an effective international disaster recovery and reconstruction framework.
Expected Outcomes
to share knowledge, experiences, and know-how for the first time on a number of complex issues in disaster recovery and reconstruction with the aim of ensuring that local communities receive what they need in reconstruction;
Catalyzing processes to review and reflect on current reconstruction practices and to develop new thought leadership for more effective disaster reconstruction & recovery; and
Developing proposals and recommendations for a global policy framework and key international standards for effective cooperation and coordination of recovery and reconstruction efforts
Recommendations from the World Reconstruction Conference will be leveraged by the Global Platform's consultative process and included into the Chair's Summary. As well, material from the conference as well as Conference Background Notes will be key input for the World Reconstruction Report (WRR) to be finalized about 10 months after the conference.
GFDRR, UNISDR, and other partners are committed to carrying forward the recommendations of the Conference as a part of the continued effort towards disaster risk reduction.
Providing a platform for recovery stakeholders from across the globThese challenging issues of disaster recovery and reconstruction will be addressed in diverse ways at the conference including:
High-Level Policy Panel
Innovation Competition
Thematic Sessions
Round Table Discussions
For further information visit: http://www.wrc-2011.org/wbwrc/wrc_about_overview.html