English
Ingo Liedtke, T-Systems International GmbH, PDC Engineering, Germany
Introduction
Flooding in Benin, Earthquake in Haiti, Cyclone Mick swept over Fiji's main island: humanitarian aid and emergency relief teams are more and more in need of a structured, secure information flow through all phases of the disaster management cycle. Additionally, there has to be a solution to deliver limited specialist resources with a virtual worldwide support. T-Systems PLATON services have a suitable answer.
Disaster management in the future – 5C "Collaboration"
As the latest history has already shown: Disasters are increasing. Due to that more and more qualified specialist resources are required on site as well as in project coordination. In many health and disaster projects uncoordinated processes are posing severe problems. Collaboration across different international institutions and local teams does not work well. The activities are very often lacking in transparency, resulting in decreased efficiency of international team work. That means an unnecessary increase in the need for resources and thus higher costs per saved life . Or, even worse, more time to the real rescue is elapsing.
PLATON Services offer support with a virtual specialist resource. This means that the information flow is structured, transparent and traceable if needed to all participants anytime and anywhere. The virtual "Task Force Disaster" team can effectively support the local team via video, voice, chat and data.
As the Greek philosopher Platon has astutely observed, "the beginning is the most important part of the work".
The PLATON system
With PLATON (PLATform for Orchestrated Networks), T-Systems offers an Internet-based platform for collaboration cloud services, including all desired functionalities at the highest security level for worldwide teamwork in real-time. Experts can discuss and work together on e.g. an urgent project issue or even on sensitive patient data from the health care field. Participants collaborate in a closed circle absolutely untroubled in virtually tap-proof project rooms installed separately for every single project through secure interfaces where intellectual property and data integrity are protected by precisely defined access rights.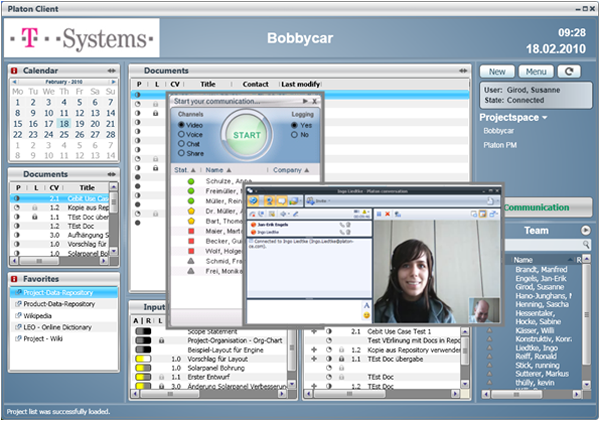 Figure 1: PLATON "virtual" project room
The advantage of the self-sustaining and secure platform is that the participants in across-company project teams do not have to open their IT systems to each other. Client software with 2-factor authentication on a USB stick with a smart card and a PIN assures secure access of the team members from any place in the world that can be connected to the Internet. All documents, project plans etc. are up to date and seamlessly documented at all times and available for across-continent and across-company project work.
Due to integrated function of Unified Communication and Collaboration (UCC), PLATON users can access all means of communication via their PLATON desktop client, i.e.
E-mail,
presence-information,
data-sharing,
phone,
video etc.
to ensure efficient coordination and focused team work.
PLATON automatically updates participants on the current work situation. Ideas, plans and changes can be presented, discussed, modified or discarded without any delay.
Manufacturers and suppliers can communicate necessary product changes instantly, thus speeding up implementation. The virtual meeting room unites team members from different companies and locations in a short time of about 48 h to create real value added networks.
PLATON protects intellectual property and ensures efficient collaboration. PLATON project teams can grow dynamically and change on demand to best suit real-time requirements. This means reduced expenditure of time and resources. The easier it is to quickly integrate different specialists to deal with new project developments, the better the final result. Fewer mistakes mean fewer corrections, less waste, less production downtime and fewer product recalls. T-Systems is prepared to modify the PLATON meeting room to suit individual needs and expert coaches are available upon request.
PLATON – Online surgery for health care and disaster relief
PLATON brings the physician specialist competence to the patient and not vice versa.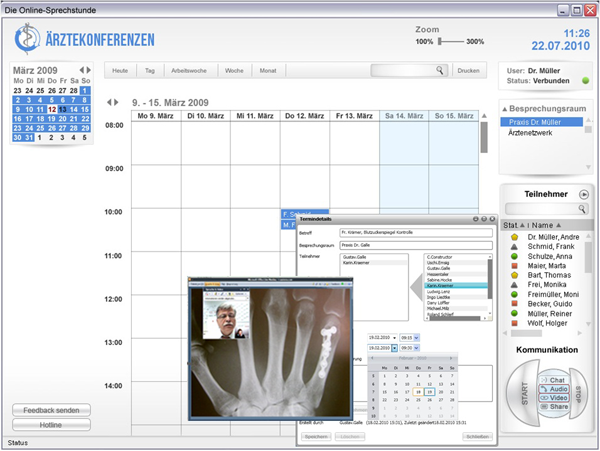 Figure 2: PLATON Health Client "physicians conference - online surgery"
As an example the physician and the patient "meet" each other in a secured, virtual surgery for a video conference. The phyisician takes his data and application and can online discuss the laboratory values, therapy plan modification or X-ray photograph with the patient. The "online-surgery" can be opened for another medical specialist, if a second opinion is needed. They can discuss without media discontinuity and the data does not leave the physician's PC. The specialist only sees the display of the data. The physicians' and specialists' competences can be virtualized and provided in any location, thus easing the communication and saving time and money. Of course the online surgery cannot replace the real surgery, but is in many cases faster and more efficient as usual low-up appointment for a discussion about e.g. laboratory data.
In particular this applies to local disaster situations where specialists are not available on site. With the PLATON services T-Systems can supply a virtual competence center anywhere, anytime, as soon as the internet connection is available on the ground.
PLATON – A new collaborative working model
In a disaster situation the human resources are very likely to be limited and helpful information has to be up-to-date at any location. The PLATON working model supplies the information flow with its structure. Larger data will be sent by an asynchronous process, but is tracked and version-controlled by PLATON. If rapid information is needed, the project members will discuss it via chat in the secure project room with the team members.
Figure 3: New Collaborative working model - all information flows are encrypted
If certified or uncertified information from the source "crowd" has to be integrated, PLATON can react in a flexible way. As an idea the crowd information will be integrated and structured for example by a data coordinator. This will enhance the quality of information and so the quality of help.
Contact
Ingo Liedtke
T-Systems International GmbH
Systems Integration
Project Delivery Center Engineering
Senior Sales Consultant trusted UCC/PLM
+49 711 972 - 43686 (Tel.)
+49 18053344918366 (eFAX)
+49 160 820 97 43 (Mobil)
E-Mail: ingo.liedtke [at] t-systems.com
Internet: http://www.t-systems.com
https://servicenet.t-systems.de/plm
https://servicenet.t-systems.de/platon