From 15 – 21 March UN-SPIDER Programme Coordinator, David Stevens, was in Chile at the request of the Government of Chile to follow-up on the support the programme has been providing to the response activities of the mega 8.3 magnitude earthquake that impacted the southern-central portion of the country on February 27.
The UN-SPIDER SpaceAid framework within hours after the earthquake started contributing to coordination with local partners and with the providers of space-based information and value-adding organizations, in order to help provide adequate support to the disaster relief community. In Santiago UN-SPIDER met with the inter-institutional team of experts which is providing the support to the response efforts, taking advantage of the space-based information being made available with UN-SPIDER support. UN-SPIDER also had several additional meetings including with the Minister of National Goods. Ms. Catalina Parot, who also oversees the National System of Coordination of Territorial Information (SNIT). UN-SPIDER also carried a field mission to the region of Talca and Constitución to verify the recovery activities and the usefulness of the space-based information provided. Follow-up activities include ensuring all acquired satellite imagery is accessible to the Chilean institutions, helping SNIT include all imagery in their Geoportal, and also help ONEMI (Oficina Nacional de Emergencia del Ministério de Interior) make this information available to the end users.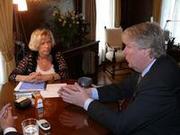 Follow-up activities include ensuring that all available imagery has been received by the Chilean institutions, that all imagery is made widely available through an image server taking advantage of SNIT's Geoportal, implement a GeoViewer for ONEMI to support its work and finally work with regional and municipal administrations to build capacity to take advantage of the data on the GeoPortal and also take advantage of the GeoViewer.