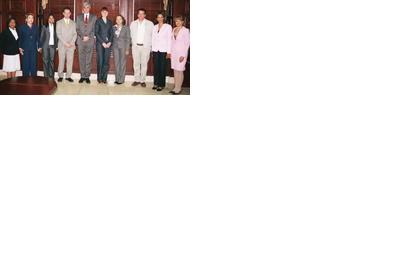 4 February 2010 – From 26 to 29 January, 2010, a Technical Advisory Mission (TAM) was conducted in Santo Domingo, Dominican Republic. The goal of the mission was to assess the capacity of a variety of institutions to access and to use space-based information for disaster-risk management and emergency response and to identify institutional needs. The mission focused on four main topics: capacities to access space-based information and to use Geographical Information Systems; current efforts concerning the implementation of a Spatial Data Infrastructure (SDI), and capacities to conduct training programmes focusing on the use of space-based information.
The two UN-SPIDER staff members were supported by an expert from the Venezuelan Space Agency (Agencia Bolivariana para Actividades Espaciales, ABAE) and by an expert from the Water Center for the Humid Tropics of Latin America and the Caribbean (Centro del Agua del Trópico Húmedo para América Latina y el Caribe, CATHALAC). The mission benefitted from the guidance provided by the National Emergency Commission (Comisión Nacional de Emergencias, CNE), the State Secretariat for Foreign Affairs (Secretaría de Estado de Relaciones Exteriores), and the Technological Institute of the Americas (Instituto Tecnológico de las Américas, ITLA). The mission team met with representatives of thirteen institutions, which included a meeting with representatives of the institutions that compose the National Emergency Council and a visit to the National Emergency Operations Center.
While the establishment of the legal framework targeting disaster-risk management and emergency response was found to be quite advanced already, needs concerning capacity building were highlighted by representatives of several institutions, as well as the need for a plan of action to institutionalize capacity building measures. On the last day, the mission briefed high-ranking officers of the State Secretariat for Foreign Affairs on preliminary findings and recommendations. The members of the mission commented that an official report would be submitted to the Government of the Dominican Republic for review, and subsequently, a plan of action to strengthen capacities would be elaborated.