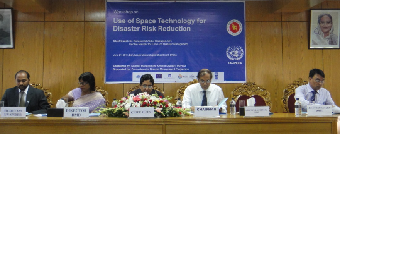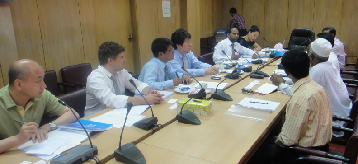 In March 2011 the Government of Bangladesh, through the Disaster Management & Relief Division, invited the United Nations Office for Outer Space Affairs to conduct a Technical Advisory Mission in the framework of UN-SPIDER Programme. UN-SPIDER organized the Technical Advisory Mission to Bangladesh from 19 to 23 June 2011.
The mission team was comprised of eight experts from the UN-affiliated Centre for Space Science Technology Education in Asia and the Pacific, India, from the National Disaster Reduction Centre of China, the Asia Pacific Space Cooperation (APSCO), China, the Pakistan Space and Upper Atmosphere Research Commission (SUPARCO), Pakistan, the Asian Disaster Reduction Centre (ADRC), Japan, the UN Office for the Coordination of Humanitarian Affairs (UNOCHA), Thailand, and headed by UN-SPIDER.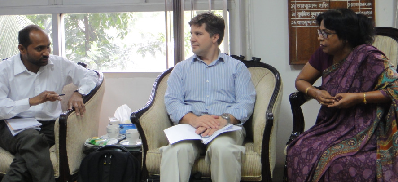 The experts had detailed meetings with the following organizations: Disaster Management Bureau (DMB), Directorate of Relief and Rehabilitation (DRR), Centre for Environmental and Geographic Information Services (CEGIS), Bangladesh Meteorological Department (BMD), Space Research and Remote Sensing Organisation (SPARSO), Comprehensive Disaster Management Programme (CDMP), Survey of Bangladesh (SOB), Cyclone Preparedness Programme (CPP), Institute of Water Management (IWM), Flood Forecast Warning Centre (FFWC), Bangladesh Telecom Regulatory Commission (BTRC) and Early Recovery Facility (ERF).
A one day workshop was organized as a part of this Technical Advisory Mission by the Bangladesh Meteorological Department (BMD) and the Comprehensive Disaster Management Programme (CDMP). The workshop was inaugurated by the Minister of Food and Disaster Management. Over 50 persons participated in the workshop. The workshop and meetings with the stakeholder departments provided insight into the current practices of disaster management and the state of usage of space technology for disaster management.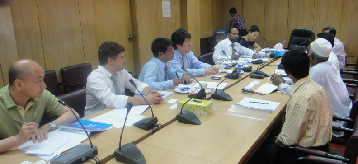 The expert group provided observations and recommendations in draft form to the Secretary of the Ministry of Food and Disaster Management and all other stakeholders. Bangladesh has shown commitment to implement the recommendations and proposed a 6 month plan to implement a number of the recommendations on a priority basis under CDMP.