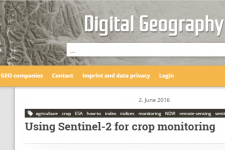 Sentinel-2 is the high-resolution optical satellite of ESA and the EU. The images have a resolution of 10 to 20 meters, higher than Landsat, and, as always with the Copernicus programme, the data are free and open.
In this tutorial, we'll download an image, make it look good, and create maps of vegetation indices to show the general health of crops and other vegetation. This is a basic tutorial, but even for those with experience in remote sensing, it is a good starting point for working with Sentinel-2 data.
Time to go through this tutorial and process an image: 45 minutes
Short summary: We're calculating vegetation indices from Sentinel-2 data to monitor crop health.