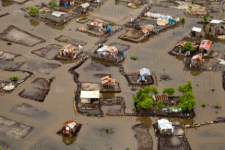 Mon, May 11 - Tue, Jun 30 2020
The aim of these e-courses is to introduce the basic concepts of flood forecasting practices and Early Warning Systems in ECOWAS region. Participants will go through selected case studies of operational Early Warning Systems services and Geospatial Information Technology applications for Disaster Risk Reduction relevant to support operational decision making for enhanced flood management in ECOWAS region. 
The course is designed to accommodate participants from a variety of backgrounds and early career technical staff from governmental institutions of ECOWAS member states working in disaster risk management sector and hydro-meteorological services. Registered participants should have an academic background and/or professional knowledge of hydromet numerical applications and basic knowledge in GIS and Remote Sensing Technology. The participation of women in this course is particularly encouraged.
The e-learning course is structured into 3 modules:
-Module 1: Disaster Risk Reduction and National/Regional policy frameworks in ECOWAS region
- Module 2: Use of Geospatial Information Technology for Disaster Risk Reduction
- Module 3: Hydrological Modelling Development of Flood Forecast and Early Warning