Insurance Company Ranks 2010 among Worst Years Ever for Climate Disasters
Climate change is a culprit in the long list of catastrophic natural disasters in 2010, according to insurance company Munich Re, adding to trends pointing to more frequent and riskier events.
In its report published yesterday, Munich Re found that the 960 natural disasters that resulted in financial losses in 2010 "far exceeded" the number of disasters in recent years. Last year had the second-highest number of "loss-related natural catastrophes" since the insurance company began keeping track in 1980, and natural disasters racked up $2.5 trillion in losses in the past 30 years. At the top of the heap is Hurricane Katrina in 2005, which racked up $145 billion in losses along the Gulf Coast, about half of which had been insured.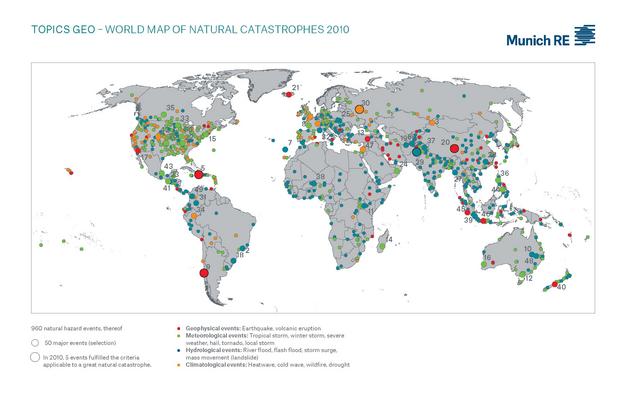 Published by: Scientific American and Relief Web on February 23, 2011
Full article: http://goo.gl/2IEeW and http://www.reliefweb.int/rw/rwb.nsf/db900sid/RKRR-8EDTCU?OpenDocument