In its function as provider of Technical Advisory Support, UN-SPIDER conducted a mission to Haiti to support national agencies in charge of disaster-risk management and emergency response. The mission was performed during the period of March 14-20, 2010, and benefited from the substantive support provided by the Office of the Special Representative of the Secretary General of the United Nations to Haiti (SRGS) and the MINUSTAH-GIS unit. One of the main goals of the Mission to Haiti was to assess how space-based information has been used by different agencies during the recovery phase of the Haiti earthquake. To achieve this goal, UN-SPIDER established contacts with representatives from a variety of agencies on the ground, who provided documents and insights into the recovery situation in Haiti.
The mission was able to find examples how space-based information was and is currently used to support ongoing recovery activities and established links with several units which are conducting these tasks such as MINUSTAH-GIS unit and OCHA Information Management Unit (OCHA-IMU). The mission also allowed UN-SPIDER to conclude that the Civil Protection Agency of Haiti (CPA) will need support to rebuild its capacities in three essential areas: institutionalization, infrastructure, and training of individuals. UN-SPIDER also established contacts with staff of agencies which are supporting the CPA and with agencies which could facilitate support to the CPA.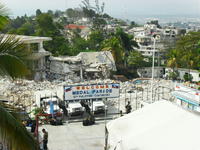 The main outcome of the Haiti Mission is a direct link established between UN-SPIDER, the CPA, and the National Center for Geo-spatial Information (CNIGS) to ensure proper coordination of activities. The communication between the staff of CNIGS and staff of OCHA-IMU and MINUSTAH-GIS was also established to ensure technical assistance during the hurricane season and in the longer term as well.