UN-SPIDER mission to Jamaica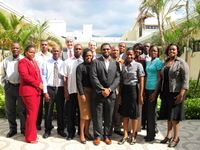 5 January 2010 - During the first week of December, 2009, UN-SPIDER conducted a Technical Advisory Mission (TAM) to Jamaica, with the purpose of assessing the current capacities of institutions regarding access and use of space-based information for Disaster-risk reduction and response in order to suggest a variety of measures to strengthen such institutional capacities. The mission included meetings with representatives of more than 20 institutions from the Government, international organizations, and Academia, in particular the Planning Institute of Jamaica, the Office for Disaster Preparedness and Emergency Management, and the spatial data Management Division of the Office of the Prime Minister.
The mission identified strengths in key areas such as geographical information systems, spatial-data infrastructures, capacity-building, and disaster-risk management and emergency response. However, the mission team also identified constraints that were impeding progress in these areas, such as a low demand concerning the use of space-based information. Having completed the mission, the team elaborated a set or recommendations focusing on policies, strategies, and particular actions. The mission was successfully concluded with a visit to the Planning Institute of Jamaica where a preliminary discussion of the outcomes was conducted on the last day of the mission.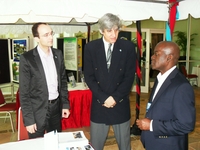 The 4th Caribbean Conference on Comprehensive Disaster Management took place in Montego Bay, from 7 to 11 December, 2009. Bringing together more than 250 experts and practitioners from the Caribbean, Latin America, Europe, and the Pacific Islands; the conference served as a setting to celebrate the first Caribbean conference which was conducted in Jamaica in 1984. Recognizing the relevance of this regional conference, UN-SPIDER was represented by two staff members, and facilitated the participation of a young professional. To this end, in coordination with the International Space Generation Council, a poster competition was conducted and Miss Carlene Boodoo, from the University of the West Indies in St. Augustin, Trinidad was selected as the winner.
The conference provided the opportunity for UN-SPIDER to strengthen relationships with the regional Caribbean Disaster Emergency Management Agency (CDEMA), with representatives from disaster management organizations of several Caribbean nations and Latin America and the Pacific Islands; and to participate in a side event organized by CDEMA regarding the Caribbean Flood Pilot Project. The opportunity was also used to strengthen ties with representatives from UNDP who are targeting efforts to promote disaster reduction both in the Caribbean and the Pacific Small Island Developing States.
Contact: Mr. Juan Carlos Villagran (juan-carlos.villagran@unoosa.org)